Essentials - Eco Foam Yoga Block
Extra Foam Block & Sling Strap
$9.99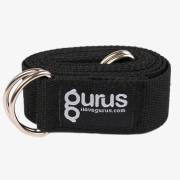 BUY IT WITH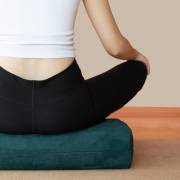 Vegan Suede Yoga Bolster
$59.99 + 20% Off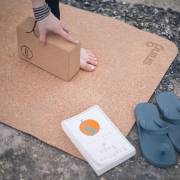 Cork Yoga Travel Mat
$54.99 + 20% Off
Skip the queue, we send out your order first with tracking, warranty & insurance.
Enhance your yoga practice and embrace sustainability with the Gurus Essentials Foam Yoga Block. Designed to elevate your sessions, this eco-friendly yoga accessory is the key to unlocking the full potential of your practice, whether you're a beginner or an experienced yogi.

With Gurus your covered. We know ordering anything online can be tricky. So we offer free exchanges within 30 days if you get a wrong size, or decide Gurus are just not for you. All orders are shipped from our warehouse in Tampa, Florida within 2 days!
Plant a Tree
Family Farmed & Owned
Sustainably Sourced & Grown
Eco-Friendly
Earth-Friendly Materials
Free Exchanges
Plant a Tree
Family Farmed & Owned
Sustainably Sourced & Grown
Eco-Friendly
Earth-Friendly Materials
Free Exchanges
The Perfect Accessory For a Perfect Practice
Our recycled foam yoga blocks help you and help the Earth. Every block is made with recycled materials to give them a new life and purpose. Try one today at a awesome price and plant a tree while you're at it!
Earth Friendly Recycled Foams
Our Yoga Blocks & bolsters are made with recycled and reused foams. Giving them a new life and purpose.
They are super firm and hold nicely in your hand. Making them the perfect accessory for your practice. We also plant a tree for you when you get one.
Prem Thomas
Meet Our Founder
Inspired by ancient Indian design and a passion to set about making a change, Gurus was born. A better planet-friendly flip flop. Made from 100% sustainably sourced natural rubbers from our family farms in India. 
Did you know that cheap plastic or synthetic rubber flip-flops make up a significant amount of plastic waste that is polluting our oceans all around the globe and I want to change that.
Hey! We Do Other Yoga Gear As Well!
Here's the downlow on our other yoga essentials, they are all sustainably made & sourced for the perfect Earth-friendly practice.
The Best Gear
Vegan Suede Yoga Bolster
A must-have for any yogi looking to deepen their practice and find more comfort and relaxation in their poses.
Made with high-quality recycled materials and a comfortable, supportive design, this bolster is sure to enhance your poses and relaxation.
The rectangular shape and firm recycled foam filling make it ideal for supporting your spine, hips, and legs in a variety of poses. Whether you're looking to add extra support to your seated forward bend or rest in savasana, this bolster has you covered.
The bolster is covered in a soft, vegan-suede fabric that is easy to clean and maintain. It also has two convenient carrying handles for easy transport to and from your yoga studio or home practice space.
Seriously Grippy Yoga Mats
Earth Natural Studio Yoga Mat
Our most durable yoga mat yet. Made from Mother Nature & made for studio level practice.
It features a custom-designed texture on the top that will actually grip you when dry! This mat weighs 5 lbs and is 3.5 mm thick but feels much thicker because of the unique raised texture on the bottom. This texture on the bottom of our mat acts like springs providing you the cushion and support of a thick yoga mat.
Like our other yoga mats, Earth is 72x25 inches to give you the perfect room to practice your general fitness workouts comfortably.
Made from sustainably sourced rubber from our family farms in India. These farms have been passed down through generations and remain a source of income for some of our relatives.
The Best Yoga Straps
Vine Sling Straps
Great for tying up your yoga mat in between classes. Made from Eco-friendly cotton & steel.
Our Yoga Sling Strap, helps you stretch and extend during your yoga practice. Not only will using a strap will assist you in reaching new positions and advance your practice, but you can use both ends to loop a yoga mat. Our strap features two buckles to secure the strap in different positions. 
So... What Do People HAve To Say About Our Products?
See what the Gurus family has to say!